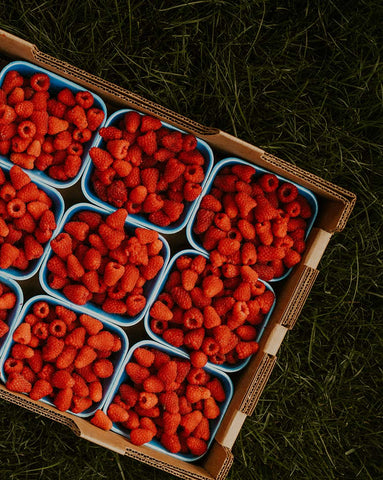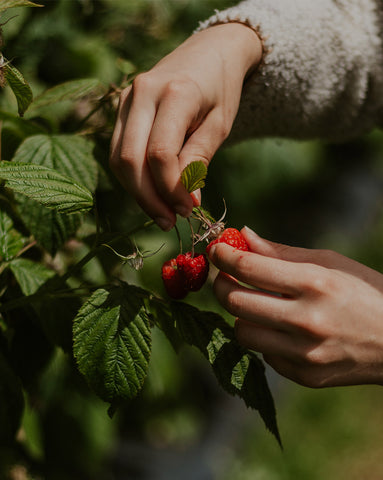 Fresh Raspberries
Sale price

$65.00

Regular price

Unit price

per
Fresh, sweet, and juicy Raspberries picked at perfect ripeness. Flats are 10lbs. 
Weight: 10lbs
OUR FARMING PRACTICES
Minimal Pesticides
In fact, we spray less than Organic Farmers. Yes, Organic Farmers spray Organic Pesticides, which are just as harmful to our planet and ourselves as their conventional counterparts. However, we strive to farm the safest produce in the Fraser Valley, through the application of Integrated Pest Management (IPM) a scientifically proven form of agriculture, that allows us to produce high yields of healthy and delicious food but use very minimal chemicals.
OUR FARMING PRACTICES
Stewardship
Some might suggest eliminating pesticides altogether. However, in the unfortunate event of a crop loss, we would lose these vital tools to protect our crops from sheer destruction. Berries are quite delicate, prone to rotting in rain or feasted on by fruit flies. So as humble stewards of our land, we believe the application of specific pesticides is an ethical method of prevention. That is true sustainability. The alternative would be letting thousands of pounds of food go to waste!
OUR FARMING PRACTICES
Prioritizing Sustainability
This method is also environmentally friendly, as our berries are mindfully produced in consideration of negative impacts on the environment and those around us-compared to any other form of agriculture, including Organic. The use of IPM, also ensures enough production of fruit to feed a society, despite the growing population. In addition to these positive aspects, IPM contributes to effective and ethically priced produce, as we do not charge the outrageous prices that Organic Farmers would, due to their lack of yields per acre, forcing them to compensate in regards to the price they charge per lb.
FREQUENT QUESTIONS FOR PICKUP
Abbotsford Farmers Market, West End Farmers Market, Downtown Farmers Market, Trout Lake Farmers Market, Kitsilano Farmers Market, White Rock Farmers Market, Langley Community Farmers Market, Royal City (New West) Farmers Market, Coquitlam Farmers Market, Fort Langley Village Farmers Market, Concord Community Park, Port Moody Farmers Market.
Our pre-order pick-up locations are currently limited to our Maan Farms market and our farmers market locations. Because of this, the days that you can place a pre-order are limited to what days the farmers market you are choosing is open.
Please park and enter the farmers market. Come to our booth, "Maan Farms", and we will have your order there for you. Please leave yourself enough time to wait in line to enter the Farmers Market.
Please email us at amir@maanfarms.com and we will send the confirmation to you.
If you miss a scheduled date for pick-up, you will forfeit any perishable items attached to your order (including but not limited berries, fresh/frozen food). We will bring all non-perishable items back to the pickup location for you to pick them up the following week. No refunds are given on anything that is not picked-up.
We do not offer refunds/replacements for missed berry pick-up. We picked those berries just for you, for that day.
Once your order has been placed, we cannot make any further changes. The farmer sees the order's every day and organizes picking days for your order. If you do not pick up your order, you forfeit them. If you come on a different day than what is stated on your order, we will not have your order there for you.
Your order will be available for pick-up as soon as the farmers market you are picking up from is open. You must arrive 30min before the farm market closes.