VENUE
Our antique barn has been beautifully restored to create the perfect reception venue.

CEREMONY
Three sites to choose from to create the backdrop for your memories.

RECEPTION
Full buffet & veranda with a capacity to hold up to 175 guests.
GORGEOUS & RUSTIC
We had our wedding here last month and it was gorgeous! The Maan family is so accommodating and understanding of our needs and dreams for how we wanted our wedding to be like. The barn where we had our reception is so beautiful, with the rustic wood and the fairy lights across the rafters. It was a perfect environment for our guests and we got some amazing pictures! Our guests also enjoyed being able to access all of the activities like the zip line and petting zoo. We kept hearing about how much fun it was! Would recommend it for sure!
- Becky Selven
FUN & RELAXED
We had our wedding here in June, and it was amazing. The venue was beautiful, the staff were extremely helpful, and the food was amazing. Our guests, adults and children, loved the farm activities. There were so many beautiful locations for us to take photos, including the pedal karts and the jumping pillow! I would highly recommend Maan Farms for anyone looking for a fun, outdoor wedding venue that will keep all of your guests entertained all night!
- Rebecca Adams
AMAZING FOOD
I recently got married here in September and it was beyond my expectations. Maan Farms makes such a beautiful place for a wedding. The venue is beautiful and had plenty of room for my wedding of 100+. The staff was wonderful with setting everything up, and the food was an 11/10. Seriously people are still talking about how good the food was at the wedding fully provided by Maan Farms. It was the wedding of my dreams and I am so happy I found this farm! Would definitely recommend if you're looking for wedding venues.
- Amanda Herd
BEAUTIFUL!
We had our wedding at Maan Farms this past Friday, it was the wedding of my dreams. The venue was beautiful and the food was amazing, there was lots for our guests to do, so many places for pictures. We got married in the gazebo and it was breathtaking. Thank you for a wonderful day.
- Kimberly Eastwood
Mt. Baker Site
The Mt. Baker ceremony site located on a beautiful grassy field, complete with 2 ponds and Panoramic views of of the mountains in the background.
The Courtyard
Our landscaped courtyard features a beautiful gazebo, heritage walnut tree, and lush gardens with a brick pathway perfect for your ceremony.
McKenzie Hall
A cozy indoor spot to say your "I do's". McKenzie Hall features Edison bulbs, warm wood panelling, and a picture perfect center aisle for your ceremony.
Catering
We include a full buffet with salads, sides and main courses customizable to suit your tastes. We offer options for cocktail hour and late night snacks as well.
Tables & Chairs
We have classic white chairs for your ceremony and reception, and our beautiful and unique wooden Harvest Tables are now included in your package!
Veranda
Dance the night away outdoors. Our large covered veranda makes the perfect spot to share your first dance as a married couple.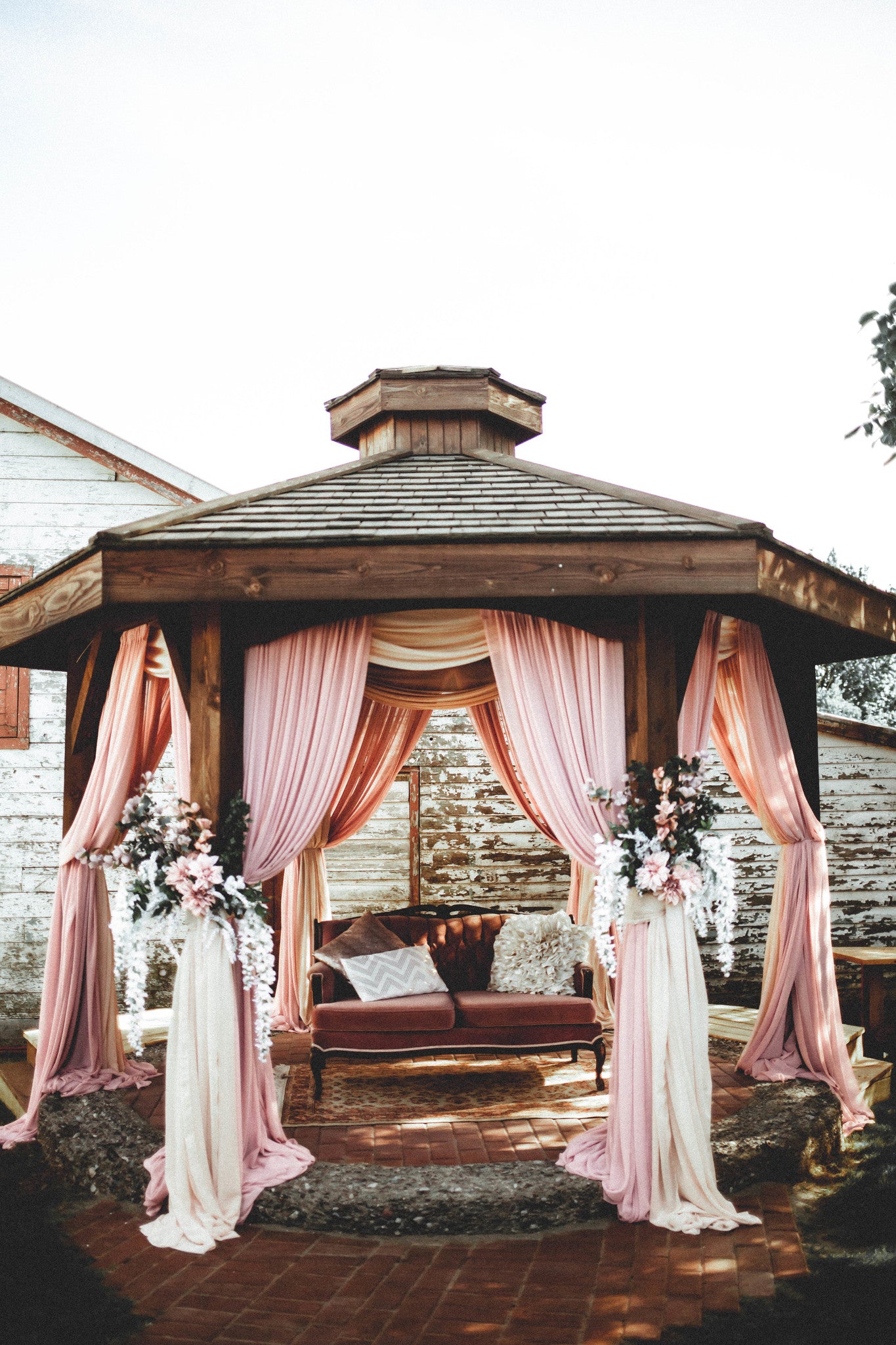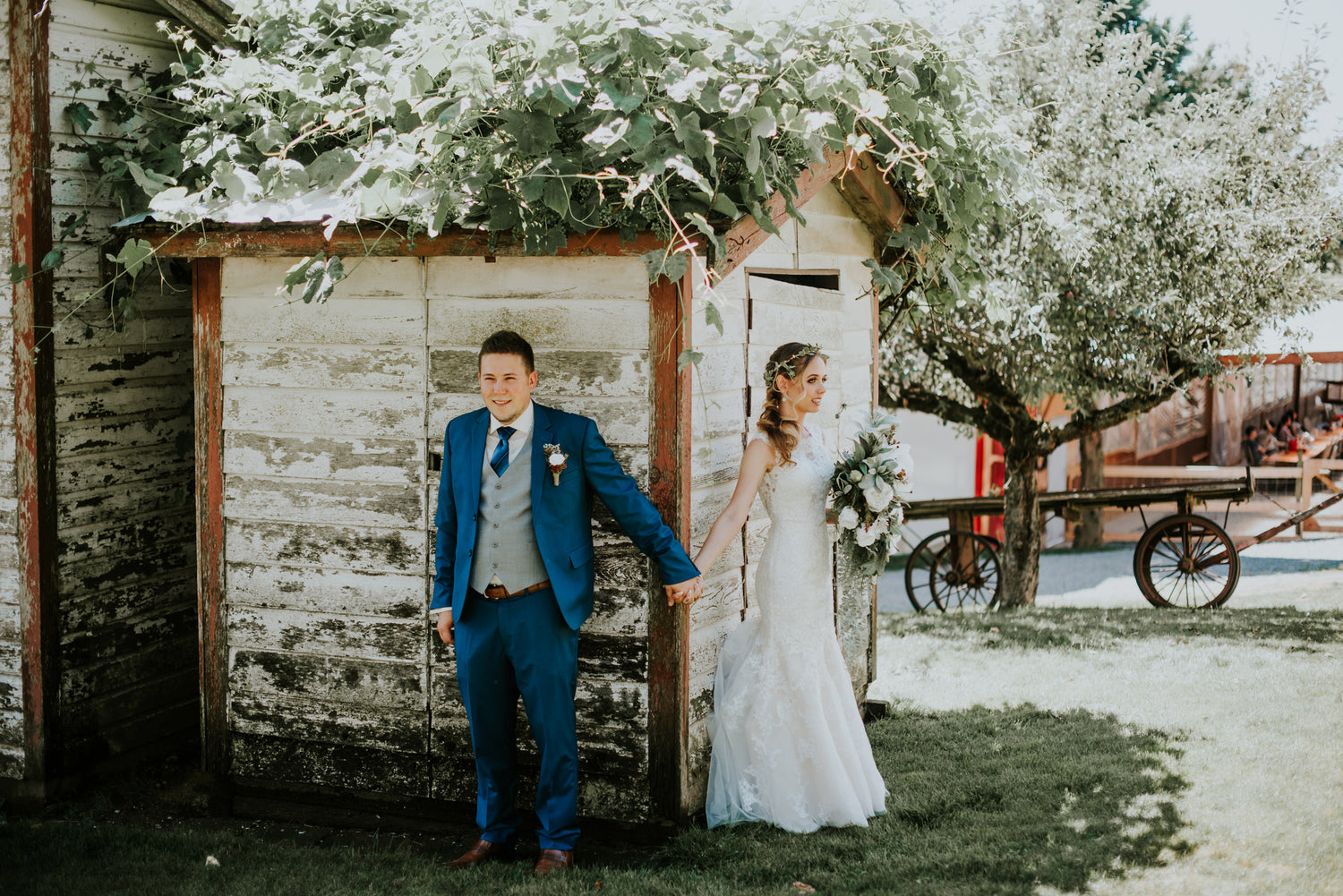 CAPTURE MEMORIES
It wouldn't be a farm wedding without the farm. We know you'll be taking pictures, why not use our entire farm to take them wherever you like? You will have free reign on all of our attractions, with any of our animals, and all of our fields. Whether your vision includes a private moment in the sunflower field, inviting the baby goats into your bridal party portraits, or bringing out your inner child while bouncing on the jumping pillow, you couldn't ask for more unique opportunities to make memories on your special day.
Spring
Green is everywhere, strawberry fields are blooming and filling the air with their fresh scent.
Summer
Raspberries and Blueberries ripen. Sunflowers blooming late summer, early fall.
Fall
Berries finish up and make way for pumpkins, corn and other squash.
FREQUENT QUESTIONS
Most Asked
We work on a first come first serve basis. The only way to hold your day is to book your reservation. Bookings require a deposit and a completed contract.
We have limited availability for 2023 and are now booking into 2024 and 2025. Please contact us for current availability.
Rental Times
Most packages include a rental time of 10:00am - 12:00am with the option to add late dismissal.
If you need extra time for set up, you may request additional time the morning of your event. Additionally, for spring and fall weddings and Friday summer weddings, you may add the Flex Package option which includes day ahead set up and late dismissal.
60 minutes of self-guided rehearsal time the week of your event is included in all packages. Rehearsal time may be extended for an additional fee.
Food & Drinks
Yes, you may have alcohol at your wedding. Besides the minimum wine purchase from our Estate Winery, you are allowed to bring in outside alcohol that is purchased from either a BC Government Liquor store and/or a private manufacturer (brewery, winery, distillery). All alcohol must be served by a certified bartender, which can be booked through our Bar Package or an outside bar service.
No, there is not. The certified bartender will be responsible for opening the wine.
If you would like Maan Farms to supply dessert plates, utencils, and a staff member to cut and serve your cake, this can be added to your package for a fee.
Guests
Yes, of course! Children are welcome at Maan Farms Weddings, however, they must be supervised at all times.
The Barn has a smooth concrete floor suitable for wheelchair access. Washrooms are also wheelchair accessible. A vehicle can drive up to the Barn to drop off any guests with mobility issues. The ceremony sites can both be accessed by vehicle for those unable to walk there.
Furniture & Decor
Maan Farms provides folding white garden chairs. Our team will set up your chairs for the ceremony and later move and set them up for the reception.
A Maan Farms Wedding Representative will be available for the duration of your event but will not act as a wedding planner or decorator. They are responsible for ensuring that all operations at the farm in regard to the wedding run smoothly, and that your wedding day schedule is running on time. They are your "go-to" person if you have any questions or concerns. However, we still recommend that you hire your own wedding planner.
We prefer guests to use battery-operated candles for the safety of guests and the venue. Upon approval from your Wedding Representative, candles will be permitted if they are contained in water or a lantern structure.
Every couple has different tastes; therefore, we do not provide decorations, however, we can provide you with the names of florists and decorators who some of our past couples have worked with.
The Venue
Yes, you may choose the band or DJ of your choice.
Yes, parking is provided in our designated wedding parking lot. Vehicles and campers may be left overnight with permission but must be picked up by the following morning.
At the moment, we do not have a designated bridal room, however, if the bride and bridal party need a holding space prior to the ceremony, there are spaces available out of view that may be utilized.
BOOK A TOUR
Thank you for considering Maan Farms for your wedding. Our family loves to share the beauty of the farm and we'd be happy to host you for a tour. If you have any questions, please don't hesitate to ask. You can call us at 604 864 5723 or email weddings@maanfarms.com.
~ Gurleen & Mama Maan